The Ciao Cà Maiol experience pays homage to our home in Lago Di Garda, Italy. Lake Garda is a picturesque oasis that exceeds all expectations. Home to vivid flowers, bountiful fruits, rich history, and our exceptional Cà Maiol wines, we welcome you to join our lakeside lifestyle, from the southern coast of our Lugana wine region to the Morainic Hills.
We may be locals, but we are not your typical Italian wines. We are as vivacious as Lake Garda's spirit, style, and vibrancy. We pride ourselves on being unique in every aspect, from our colorful personalities to our distinct mottos. If you like chasing the sun and being an adventurer on the water, you're just like our Lugana. Say Ciao to Lugana, the social butterfly wine. If you prefer to savor the sunset with your best friends and explore the beauty of the promenades at dusk, then Chiaretto is your next bestie. Flirty like the first kiss of summer, it's only fitting to have a mantra-like Baci (kisses). And if you are fluent in the language of love, then sing "That's Amore" with Giomè.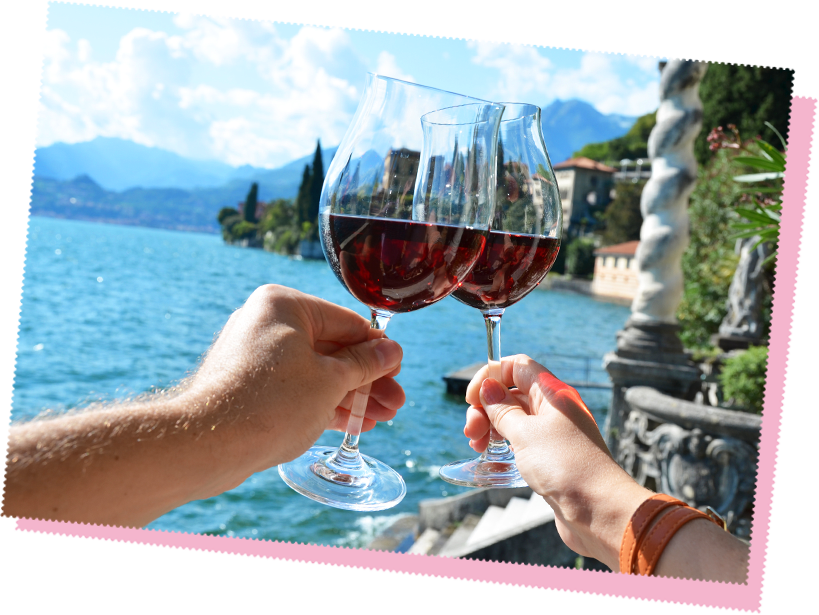 Cà Maiol xx Art
With a home that fuses culture and art in every corner, we made it our mission to find an illustrator that brings its beauty to life. A local like us, Marianna Tomaselli is an accomplished illustrator, animation director, and graphic artist from Lake Garda. Marianna began her career as a visual designer for a fashion brand and then in Milan as an art director in a creative studio. Her use of strong brushstrokes and wide, scenic designs, and her talent for mirroring the beauty of real-life locations made her the perfect artist to capture the essence of Cà Maiol.
Take a sip as we share the story behind each illustration, its inspiration, and bring a side of our lakeside to you.
Lugana
Ciao, I'm Lugana! I'm from a place known for its quaint villages and scenic shorelines. But just a 15-minute stroll away from home lies my favorite picturesque peninsula-town of Sirmione. This charming coastal "It" town of Lake Garda is ideal for those who want to escape the city and spend a day basking in the Italian sun on turquoise waters. Our art piece puts in place a moment that could be just for you. If you're ever in town, do as the locals do and take a boat tour around the peninsula.
Imagine a warm midsummer day, unwinding on the bow of the boat. We start at the Scaligero Castle as our guide shares its historical side as a medieval marvel that appears to be floating on water from all sides. As we make our way to the magnificent "Grotte di Catullo" Roman Villa, its splendor, in size and well-preserved beauty hint at the luxury that inspired a poet's words of love. We dock for lunch at Jamaica Beach and end the day enjoying the thermal springs.
So, What do you say?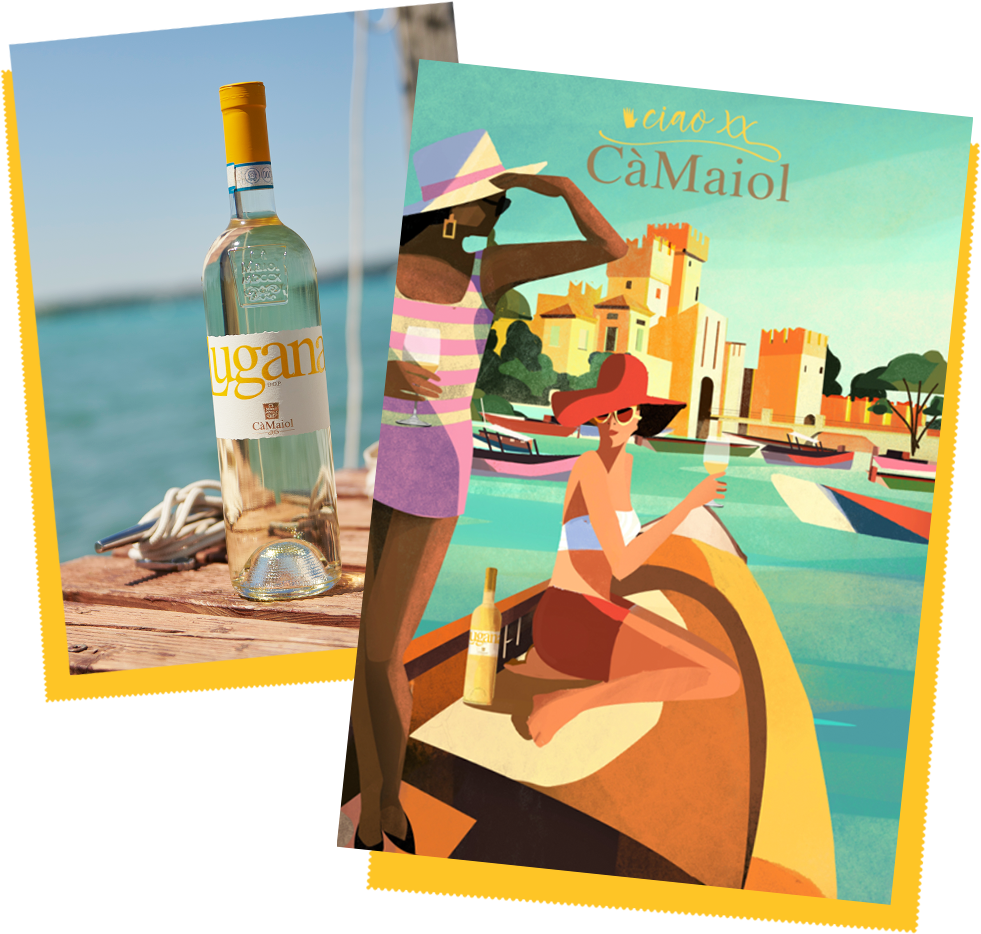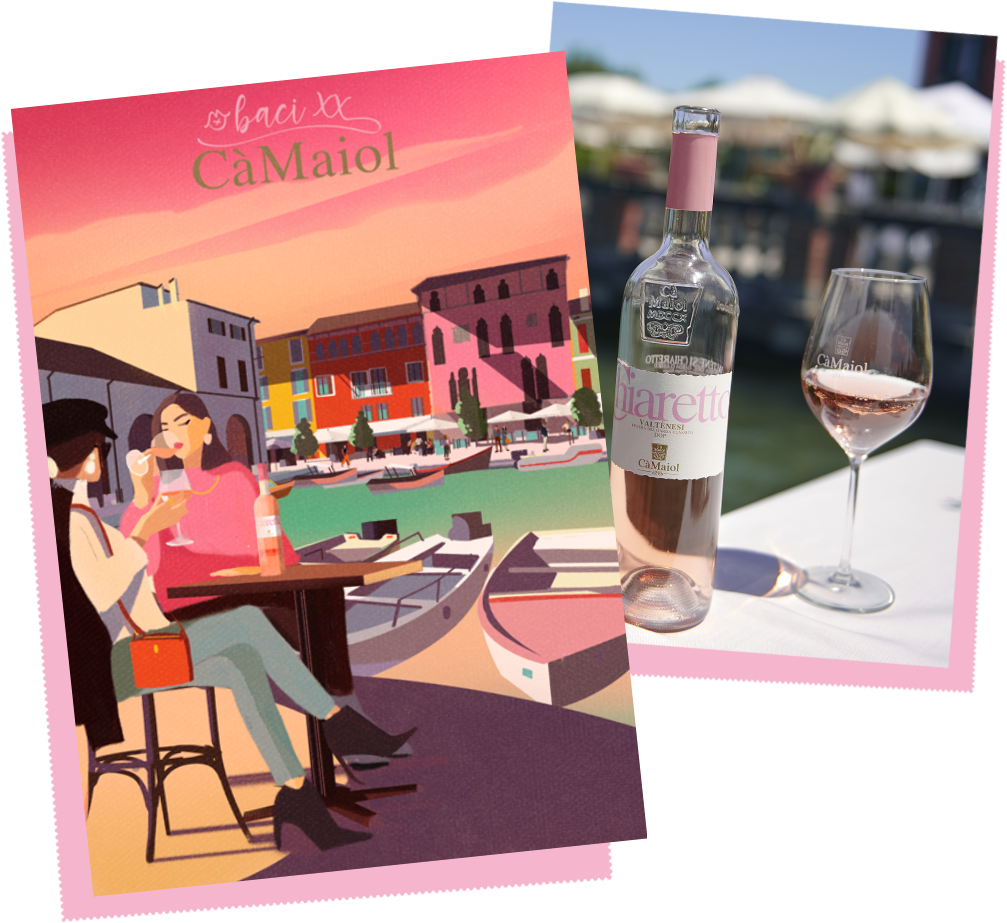 Chiaretto
Color me Chiaretto [key-are-et-toh]. My full name is Valtènesi Riviera del Garda Classico D.O.P. Chiaretto, but my friends nicknamed me the "one-night wine" from the 12 hours it takes to make my rosé hue just right for you. For those who like to rosé all day the Lake Garda way, don't miss out on the breathtaking views at sunset. It's the moment when the sun is disappearing behind the horizon, but there's still plenty of delicate light. Nothing says Italian vibes like taking a moment to sit, sip, and enjoy as the sky is painted in every shade of pink.
The best place to experience this is in the stylish resort town of Desenzano. You can find me and my besties enjoying an intimate aperitivo hour as we watch the multicolored fishing boats dock at the old port. Stroll the promenade along the edges of town, and you will notice the town's vibrancy stand out. The colorful Venetian-style house facades and lit Romanesque archways become filled with people as the chic eateries and cafés open. If you embrace la dolce vita and take your time, you will see how the piazzas transform into a lively night scene.
Giomè
The name is Giomè Benaco Bresciano I.G.T., but I'm known around town as the winsome wine that brings amore to all outings. As a debonair red blend, I love nothing more than the timeless pairing of the great outdoors and a spontaneous scampagnata (picnic). Where I'm from, the expression "gita fuori porta" (outdoor trip) is the philosophy.
After exploring the charming towns in Lake Garda, like a local, pack me along with your picnic essentials and take in the crisp breeze. My favorite spot to unpack and sit is a place where the delicate hills of the countryside beckon. It's a secret spot surrounded by nature, just a few steps outside the small village of San Martino Della Battaglia. As the afternoon sun's orange and reddish rays begin to spread, there's nothing finer than facing the majestic San Martino tower, whose eye-catching appearance is only emphasized by the symphony of colors. To say you would be in awe of this site does not do justice to the smells and tastes of the fresh focaccia and homemade frittata that complete your alfresco experience.